Click for large view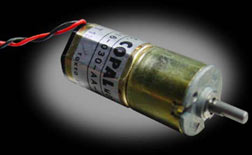 COPAL 30:1 Gearmotor
The built-on 30:1 gearhead provides a great amount of torque to the wheels while still being quite zippy. We recommend using our Foam Tires with this motor, as they provide good shock absorption for the small gearhead. Pre-wired with about 4" long leads.
Voltage: 6-12V
Only 1.43" long, 5/8" diameter
weight: .88oz
52.49 oz-in torque @ 12V
29.16 oz-in torque @ 6V
770rpm @ 12V
390rpm @ 6V
stall at 1.3a
3mm diameter shaft with 5mm long flat
Click for size comparison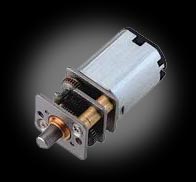 Sanyo NA-Series Micro Geared Motors
This is truly the smallest gearmotor we've found, and it is top quality.
High quality all-metal gears with your choice of a very torquey 196.6:1 gear ratio, or a faster, but less torquey, 75.7:1 ratio.
The entire motor with gears weighs only .3 ounces! They are rated for 5.0V DC, but we have tested and run them at 9.0V, even up to 12V. Tires can be directly mounted to the 3 mm diameter output shaft.
With these motors we will see a new evolution of tiny bots. YES, the prop adapter we sell will fit on these motors!

Specifications at 5.0 V:
75:1 - NA1S
No load speed
246 rpm
No load current
120 mA
200 g-cm load speed
184 rpm
200 g-cm load speed
196 mA
Starting torque
800 gf-cm
True gear ratio
75.7:1
Size
0.47" x 0.39" x 1.14"
Weight
8.2 grams (0.29 oz)
Starting current
650 mA +/- 30%
B-Series Beetle Gearmotors
These are some awesome motors for your Beetleweight (3 pound) robot, or for a steroid-powered Antweight. Also great for applications that require high-torque lifting or movements of arms, etc.
We haven't seen a motor this good since the old Escap 33:1,
All-metal planetary gearbox with metal gears. Available in 3 different gear ratios, whether you need a super-zippy 16:1, which is all about the speed, up to a monstrous torque 104:1 with a huge 247oz-in of torque!
Check out these numbers:

B16 model

6V
12V
No load speed
285rpm
675rpm
Amps @ nominal
0.3 A
0.4 A
Stall current
1.0 A
2.1 A
Stall torque
27 oz-in
45 oz-in
Gear ratio

16:1

Weight

2.29 oz

Diameter

0.86"

Length

1.861"

Shaft diameter

4 mm - with flat

Shaft length

11 mm